Frenkey Box – AC001 is a secure unit designed for access control applications. It allows users to open gates and doors securely by using a mobile phone or any other connected device. No keys, badges and remote control are needed. By means of Frenkey cloud service, Frenkey box enables users to a full dematerialized access experience. Inside frenkey box there is a secure element. A microcontroller designed to enforce security. Only registered users can interact with the system after their authentication. All user actions are logged by the system. It is possible to define a per user access control policy. Each unit comes with six inputs and four outputs. Inputs can be configured to be analog and digital. Number of inputs and outputs can be extended by connecting additional units via RS485 and Ethernet. Programmable logic control allows the creation of automatic logic based on inputs, user activities and outputs.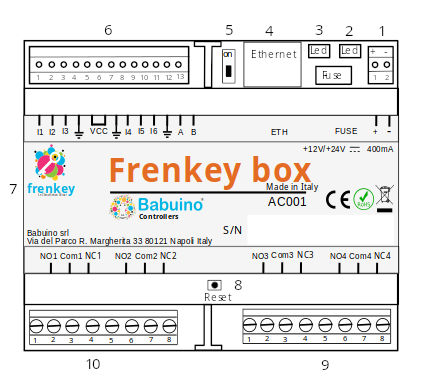 Installation and power supply
Installation and power supply
The unit can be mounted on a wall or installed on a DIN rail (EN60715). In order to operate it is required a power supply between 12V/24V (current >500 mA). When power is up status led is blinking indicating the microcontroller activity. If status led is blinking twice then the device is ready for the service.