Improve your access experience.
Request a demo
The keys without the keys.
Frenkey:
Easy and Secure

Easy and Secure
The keys without the keys
Create the keys, send it online, open the door, check the log.
Request a demo
Say goodbye to keys and remote controls
Frenkey is an access control service that allow users to open gates and doors by means of an app on mobile phone.
Frenkey provides an evolutionary access experience. A simple user interface organizes digital keys in key chains. Keys can be created, delivered to users and destroyed easily and securely just by a mobile phone and online without the need of any physical interaction. Each user can control several keys of different locks installed at different locations.
Manages full key lifecycle
Frenkey provides to users a comprehensive set of features to manage the complete key lifecycle: key creation, key delivery, key usage, key administration and key revocation. Key administration includes key activation and deactivation, log of access and access permission based on a timed policy. Everything online without any interaction. At each key usage user is authenticated so to ensure that only key owner can use the key.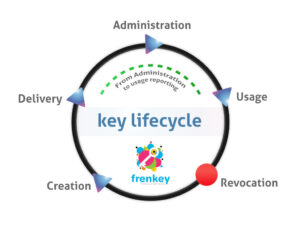 Frenkey provides to users a comprehensive set of features to manage keys and locks securely.
Frenkey manages the complete key lifecycle.
All actions performed securely online including delivery. No need of any physical interaction between users.
User is authenticated at each access by Biometry or pin.
Management of multiple keys of doors located in different places. Keys are organized in key chain.
Time-based access controls with start time, end time and weekly policies per user and per door.
Compatible with all the electric locks and access systems.
Frenkey is for your office, your business, your house, your condominium and wherever you need to open a gate. It is compatible with all electric locks or access control systems. It requires a device compatible with the service that control the electric lock for example Frenkey box. Frenkey Box is a secure unit that control the access and is connected to the service.
Security is one of main pillar.  Service and all its components have been designed, developed and operated considering security as a primary requirement. Each user has its own key, different from all the other keys and defined and known only by him. End to end security creates a secure tunnel between the user and the Frenkey box protecting keys and communications from malicious threats and eavesdropping.
Frenkey technology is open to partners that can easly integrate their products into the service and exploit all the featrues offered without any limitation. There are several benefit for partners. First benefit is saving R&D costs. They can reuse most of the development of Frenkey such as the apps and the server technology. Integration is easy and partnerr will have full support and an SDK firmware that already implements most of the features.